Main content starts here, tab to start navigating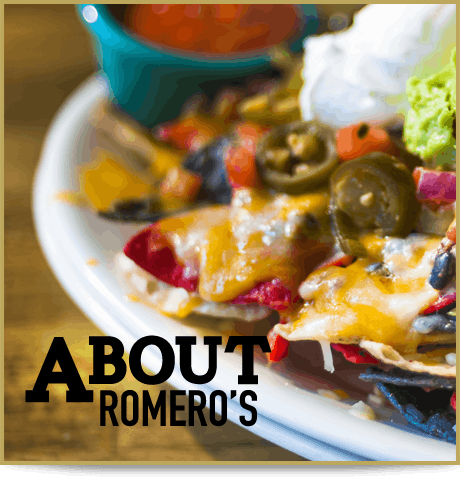 About Romero's
Formerly Tacos Las Brazas, we have been in business since 1997. We have made quite a name for ourselves with our excellent authentic Oaxacan family recipes. Some of our Southern Mexican specialties include Tamales, Chicken Flautas, Chile Rellenos, Mole, and all of our kickin' salsas. We have added a bit of Tex-Mex in some of our dishes such as some of our Enchiladas & Quesadillas. We use nothing but the freshest ingredients and everything we serve is homemade daily for maximum flavor and freshness.
Our greens are a CERTIFIED ORGANIC product!
We also purchase all of our produce fresh from a local farmers market.
Mexican Menu Features
Appetizers
Authentic Dishes
Soups
Salads
Seafood
Combination Dinners
Children's Menu
Full-Service Bar Includes Mexican Beers
Dos Equis
Tecate
Corona
Bohemia
Modello Especial
Pacifico
Many Others
MARGARITAS
We serve over 25 top Tequilas & Mezcals.